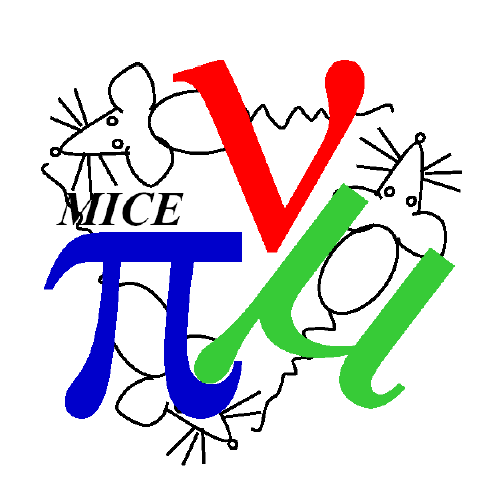 Neutrino factory
A neutrino factory is a proposed facility capable of producing a high intensity neutrino beam with known flavour composition and precisely known energy composition. A typical design for such a neutrino factory is shown below.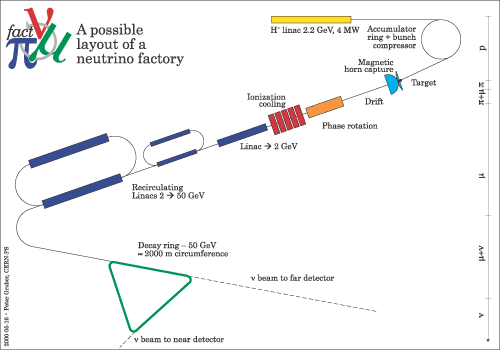 The process starts with a high power high energy proton beam produced by a linac or a synchrotron which hits a solid target. This causes a spray of particles which includes a large number of pions. The pions which are produced are focused and captured using a magnetic focusing system. Once collected they are fed into a drift volume where they decay producing muons.
The muons are made to undergo a phase rotation and are then cooled using a method called ionisation cooling. Next they are fed into recirculating linacs which increase their energy and finally into a decay ring where the muons decay producing neutrinos. The decay rings are designed such that the muons decay in long straight sections producing a focused and intense neutrino beam.
Much Reserach and development must be done before the idea of the neutrino factory can become a reality, as it provides many technical challenges. The design of an optimal target and pion capture system requires a more precise knowledge of hadron production than is currently available and has resulted in the proposal of hadron production experiments such as the HARP experiment. The high energy of the incoming protons means that the target will be subjected to thermal and mechanical shocks - the effect of these is not yet understood and requires careful study. Muon cooling though theoretically understood has never yet been demonstrated in practice and it is the goal of an international collaboration, the MICE experiment to demonstrate that this will work.
---